How to prepare for the online schooling transition: A guide for parents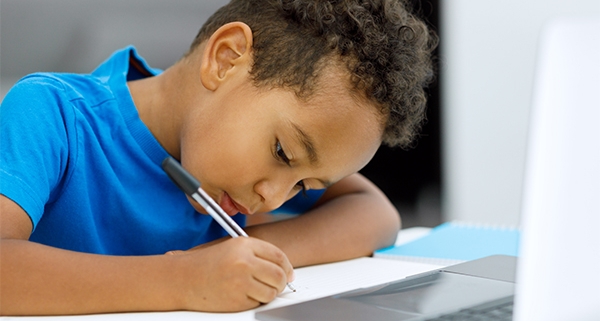 There's no such thing as too much research
The conventional to online schooling transition shouldn't be taken lightly. This is a big decision. As a parent, invest time, energy and effort into finalising things. There's no such thing as too much research.
We recommend taking some time to understand how online learning will benefit your child. Which online schooling features should you look for in an institution? Moreover, how will this transition affect you as a parent?
Many parents make the mistake of doing minimal research and diving head-first into this transition. Avoid making this mistake. Prepare yourself and gain more insight into making the switch. This will help you choose the right institution and begin this journey on a good note.
Use this checklist during the research process:
1. What are the benefits of switching to online learning?
Flexibility – working at your own pace, safety, convenience, the ability to tailor your child's learning according to their needs, strengths and weaknesses, etc.
2. Which online school is right for my children?
Prioritise experience and faculty expertise. The institution should have at least 5 years of experience and a qualified, experienced, skilled, trained and empathetic faculty. They should also use a recognised, accredited and well-rounded curriculum. Additionally, they must equip students with top-notch resources and tools.
3. Can I resume work/chores while my child attends online school?
The answer to this question is imperative. Choose an online school that completely takes the reins so that you, as a parent, don't have to intervene continuously. At Think Digital Academy, you can rest assured knowing that we teach, while you parent. You should be able to resume work/chores without being required to check in on your child. To make this task easier, we've designed a parent tool that enables you to monitor your child's progress easily and effortlessly. Our weekly activity reports are emailed directly to your inbox every Monday morning. This report details your child's activity on the system and tracks their progress. All you need to do is check that they're making positive progress. Many institutions don't offer parental leeway, so dig deeper and find one that does.
Create two schedules: one for your child and one for yourself
As you switch to online schooling, you should have scheduling down to a tee: both for your child and yourself. Start by creating a balanced schedule for your child. Once their pre-recorded lessons end for the day, they should enjoy a handful of activities that promote personal and social growth.
Allocate some time for sports, skill-building, extracurricular activities, hobbies, excursions, socialisation with friends and/or family and so on. At Think Digital, we've created an opportunity for students to join a selection of live, virtual Clubs and Societies to ensure that skill-building continues even outside the online learning environment. This will help your child have an active learning experience following their classes.
Similarly, set up a schedule for yourself. Break your day into slots. Fit work and leisure into these slots. Your day should already be planned out in advance, so that you don't feel rushed and panicked every day.
A streamlined schedule will help you breeze through work, run errands, catch up with friends/family, spend quality time with your children, help them with their schoolwork/revision, take some time out for yourself, etc.
The online schooling transition becomes very simple and manageable when everything is seamlessly and skilfully planned in advance. Do this and the first few weeks will become much easier.
Speak with the personnel beforehand
At Think Digital Academy, we help parents prepare for the transition to online schooling. Our Student Success Coaches will walk you through what you should expect. A virtual dashboard tour is offered beforehand which will give you a good glimpse into what you can expect when you enter your "online campus". They'll also discuss common mistakes parents often make during the first few months of the switch. As you get a glimpse of how the first few weeks will pan out, you can prepare accordingly.
We also recommend reaching out to other parents who have already switched to the online schooling model. The longer it has been, the better! They'll offer excellent guidance and share individualised tips based on their unique experiences.
If you still feel unprepared, online forums are an excellent resource.
If you have any unique questions or concerns, pop one of our friendly Success Coaches a WhatsApp +27 071 408 4677. Our online support community is very active, so you can rest assured that you'll get the support you seek.
Another great option for if you recently made the switch and want to find support in your new online community, is to join various Facebook groups. As you interact with other parents, you'll understand how they navigate the switch in a way that's effective and efficient for them.
Ready to make the switch to online schooling for your children? At Think Digital Academy, we offer the South African CAPS, British International and American GED curricula to students across the globe. As South Africa's first, favourite and 2x award-winning online school, we're trusted by thousands of parents.
With 6+ years of experience, we're committed to helping students excel. By providing quality online schooling options for working parents, we help parents heave a big sigh of relief when it comes to their children's education. Whether you're working from home, rushing to the office in the morning, or running errands all day, you can rest assured that your children will receive a quality education from home.
Thank you for trusting us; we look forward to giving your children the support, tools, and guidance they need to succeed.
Explore our FREE two week trial and see for yourself.
https://www.thinkdigitalacademy.org/wp-content/uploads/2022/12/Guide-to-prepare-for-the-online-schooling-transition.jpg
350
600
vene
https://www.thinkdigitalacademy.org/wp-content/uploads/2020/10/logo_shrinking.png
vene
2022-12-08 08:16:02
2023-02-15 11:05:31
How to prepare for the online schooling transition: A guide for parents