How reading cultivates imagination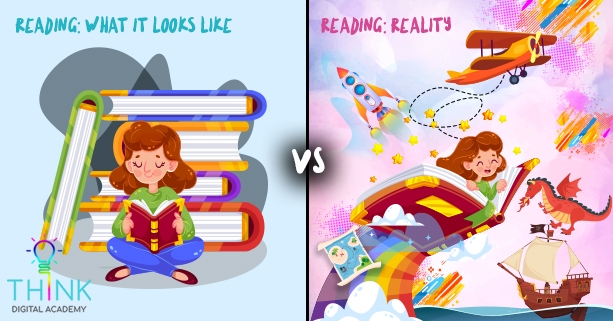 A childhood without books
Is like a Chip 'n Dip without any tomato sauce. It's still pretty nice, but it's definitely missing something.
We might be the tiniest bit biased being an entire group of readers but if anything, that just shows you exactly the results that reading can yield.
There's also the upside of books being completely devoid of in-app purchases – a delightful little black hole into which much of your money can go to if your child knows where to click in Candy Crush or Minecraft.
So really, the only downside is the odd paper cut.
Books are the most amazing and profound learning devices. Not only do they encourage children to think, but they also allow them to step into another world and immerse themselves into that book's setting.
Often, when children read, you can see their hearts in their eyes as they lovingly take in the stories that they're reading. Reading is a magical gateway to learning anything about everything.
Children can learn about their interests (and even themselves) through reading things they enjoy.
One of the most wonderful parts of life is that we all – and not just our children – have the power to dive into beautiful books and be transformed. No matter how stressful life can be, we're offered the gift of finding a quiet space and immersing ourselves into discovering magic in other mystical worlds.
Whether it is a new realm, fighting off dragons or trying to survive in a dystopia, it becomes obvious that reading improves imagination. Your imagination allows us to get transported into the magical world between the pages of a good book. You temporarily get to escape reality while you visit a different place and time. Instead, you visit a world that you've imagined for yourself, based on the words you've read.
Albert Einstein said that "Imagination is more important than knowledge" and that "Logic will take you from A to B. Imagination will take you everywhere." It's quite safe to say that Einstein thought that someone who has great imagination also has the ability to create and discover more than the average not so imaginative human.
So how does reading improve the imagination?
The more you read, the better you are able to concentrate and the better you will be able to imagine ideas and new concepts. Our brains need to be kept active in order to stay healthy and reading is a great exercise for the mind. Imagination has many benefits. It encourages creativity, which brings about new ideas. A book in its pure form is just words on a page, and our minds have to do the work, imagining the words coming to life. This does wonders to develop our creativity and imagination. It also plays a huge part in innovation.
Exercising your imagination through reading will also help you to improve your ability to visualise new perspectives.
In a best-case scenario, books expand your mind, allowing you to reach outside your own life and take a look at something different. Stories, be they fiction or nonfiction, provide an opportunity to see through the eyes and perspective of someone else, which might give you a taste of experiences or ideas you would never have explored on your own. In this way, reading books can also help you relate to others on a deeper level.
Think of it this way: explorers learn about the world and all its diversity through experiencing these elements directly. The exploration itself helps broaden the mind, boosting creativity, imagination and changing perspectives forever. It is similar for reading: if you can explore and 'see' these new places or imagine what it would feel like, that is your imagination working. We can't all be proper explorers, but what we can all do is discover new worlds through reading books.
Reading allows us to learn from the life choices of others because we can relate and connect with the protagonists in the books we read. It enables us to learn vicariously through their experiences. Reading even encourages cathartic healing. Again, because we are able to connect to the protagonist in the book, we are able to experience emotional release through the stories we read — and this often leads to the healing of the soul.
Surround your children with books
If your child sees you reading regularly, they're more likely to build an interest in the activity. Find a book you love and read whenever you get the chance. Children are always watching, and will learn from you. After all, children do as you do more often than they do as you say.
Having a variety of books to choose from is a great way for your child to discover what interests them. Reading something enjoyable will do wonders for their curiosity and reading comprehension. They'll be skilled, active readers in no time. Reading is important because words are the building blocks of life.
Finally, during these most-certainly uncertain times, it helps to find solace in the simpler things.
And sometimes, that can be as easy as a good book and one big hug made out of couch.
We've recommended a list of our all-time favourite books from Grade / Stage R all the way to Grade 12. As far as books go, these are pretty good.
Grade / Stage R
Mama and the Missing Shrews
The Chocolate Shop
Liza and the Sneaky Pie
Alphabet Hide and Seek
Monster Shout
Are You Like Me Story
Grade / Stage 1
The Book Hog by Greg Pizzoli
The True Story of the Three Little Pigs by Jon Scieszka
There's an Alligator Under My Bed by Mercer Mayer
Freckle Juice by Judy Blume
The Boy Who Loved Words by Roni Schotter
There is a Bird on Your Head! by Mo Willems
Grade / Stage 2
Double Bass Blues by Andrea J. Loney
Rosie Revere, Engineer by Andrea Beat
Charlotte's Web by E B White
If I Built a Car by Chris Van Dusen
Once Upon a Cool Motorcycle Dude by Kevin O'Malley
Could You? Would You? by Trudy White
Grade / Stage 3
The Adventures of Paddington by Michael Bond
Babe by Dick King Smith
The Penderwicks by Jeanne Birdsall
The World According to Humphrey by Betty Birney
The World According to Humphrey by Betty Birney
Bad to the Bone by Lucy Nolan
Grade / Stage 4
Wings of Fire series by Tui T Sutherland
Fables by Arnold Lobel
The Phantom Tollbooth by Norton Juster
Alice's Adventures in Wonderland by Lewis Carroll
The Wild Robot by Peter Brown
Serafina and the Black Cloak by Robert Beatty
Grade / Stage 5
I Can Make This Promise by Christine Day
The Red Tree by Shaun Tan
The One and Only Ivan by Katherine Applegate
Maniac Magee by Jerry Spinelli
Pippi Longstocking by Astrid Lindgren
Series of Unfortunate Events by Lemony Snicket
Grade / Stage 6
When You Reach Me by Rebecca Stead
Small Spaces by Katherine Arden
The Call Of The Wild by Jack London
Walk Two Moons by Sharon Creech
Space Case by Stuart Gibbs
Out of My Mind by Sharon Draper
Grade / Stage 7
New Kid by Jerry Craft
A Place to Belong by Cynthia Kadohata
The Giver by Lois Lowry
Tuck Everlasting by Natalie Babbitt
The Wednesday Wars by Gary D Schmidt
Watership Down by Richard Adams
Grade / Stage 8
Hope Was Here by Joan Bauer
My Family and Other Animals by Gerald Durrell
Animal Farm by George Orwell
The Absolutely True Diary of a Part-Time Indian by Sherman Alexie
Adventures of Huckleberry Finn by Mark Twain
The Hate you Give by Angie Thomas
Grade 9
Long Way Down by Jason Reynolds
Nothing by Janne Teller
Lord of the Flies by William Golding
Catch-22 by Joseph Heller
Brave New World by Aldous Huxley
To Kill a Mockingbird by Harper Lee
The Catcher in the Rye by J D Salinger
Grade 10 / GCSE
Out of the Dust by Karen Hesse
The Voyage of the Beagle by Charles Darwin
Invisible Man by Ralph Ellison
The Right Stuff by Tom Wolfe
Girl With a Pearl Earring by Tracy Chevalier
All Quiet on the Western Front by Erich Maria Remarque
And Still I Rise by Maya Angelou
Grade 11 / GCSE
A Death in the Family by James Agee
Lucky Jim by Kingsley Amis
The Plague by Albert Camus
The Last of the Mohicans by James Fenimore Cooper
Seize the Day by Saul Bellow
One Day in the Life of Ivan Denisovich by Alexander Solzhenitsyn
Grade 12 / AS Level
In Darkness by Nick Lake
The Things We Cannot Say by Kelly Rimmer
Things Fall Apart by Chinua Achebe
The Rector of Justin by Louis Auchincloss
The Underdogs by Mariano Azuela
Pilgrim at Tinker Creek by Annie Dillard
https://www.thinkdigitalacademy.org/wp-content/uploads/2021/07/How-Reading-Cultivates-Imagination.jpg
321
613
vene
https://www.thinkdigitalacademy.org/wp-content/uploads/2020/10/logo_shrinking.png
vene
2021-07-28 09:48:38
2021-07-28 10:01:34
How reading cultivates imagination