How to stay productive over the holidays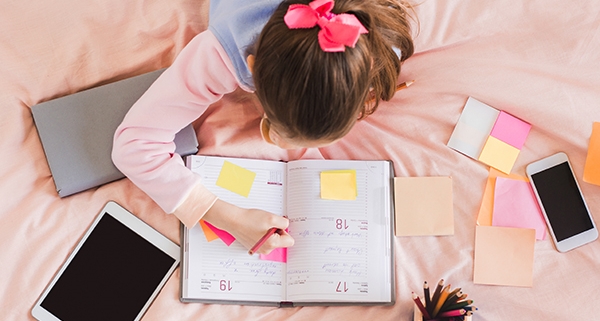 As the festive season and school holidays are under way, our students are already well on their way to making memories with their friends and loved ones. While some are on vacation, others might still have weekend getaways, outdoor excursions, sporting activities and other adventures lined up.
We strongly encourage students to spend time with their loved ones over the break. As you enjoy the holidays, make sure you do so productively! What do we mean by this? In this article, we'll discuss five ways to have a productive break.
1. Reflect on the year and set new goals
As you wave 2022 goodbye and make way for 2023, make sure you take some time to reflect on the year and set new goals. Was your academic performance up to par in 2022? Did you focus on your personal growth? Did you socialise with your friends? What about your extracurricular growth?
Analyse the year from every standpoint to determine whether you had a productive year. We also recommend creating a list of ways you can make 2023 even more productive. How can you improve your academic performance? Should you develop new skills? Our Clubs and Societies are a good place to acquire and learn new skills. Are there certain activities and hobbies you should explore? Do you want to start playing new sports?
Make a comprehensive list of everything that you want to achieve. While it should be thorough, it should also be realistic at the same time.
2. Organise your study space
Does your learning space need some TLC? At Think Digital Academy we encourage our students to pay close attention to their study space. You spend a good chunk of your day working through your online classes from this space. If it's in disarray, you'll struggle to have a productive learning experience.
A tidy, clean, minimalist and organised space will help you feel motivated and uplifted. If your study space isn't up to the par, start a mini makeover! Clean it up, redo the space around your working desk if you have to, add some bursts of colour to the space, and accessorise it. As you breathe life into your study space, you'll feel more invigorated.
Avoid going overboard. As you accessorise your space, avoid adding gadgets, or any other distractive elements to it. Once you spruce up your study station, you'll see the difference for yourself.
3. Create a new schedule for the upcoming term
It's time for a new term! As you enjoy the holiday festivities, take some time to create a schedule for the upcoming term. You should ideally do this before the New Year.
Based on your new lessons and timings, set up a robust schedule that helps you stay on track. Your Termly Planner will help you to break up your lessons into a schedule that works for you. You can opt for a digital calendar or create a physical schedule in a notebook or on a whiteboard in your room.
If you opt for a digital schedule, make sure you sync it across your devices (smartphone, desktop computer, laptop and tablet). This will help you access and edit your schedule whenever you want. It's the best way to stay on top of everything in 2023!
4. Get an academic head start
You may shudder at the thought of being told to study over the holiday break. No, we won't ask you to do that. However, we strongly recommend getting a head start.
Go over your curriculum for the upcoming term and review some of the chapters, topics, or subtopics that appear difficult. You can also watch a video or two to head a head start and begin a great term! Get a good grasp of the introductory concepts so you can breeze through the first few lessons.
At Think Digital Academy, we have comprehensive online learning tools. Your learner dashboard includes a wide range of educational resources, including videos, eBooks, past papers, worksheets, lesson activities and so much more.
Utilise these resources to learn the ropes. This little measure will go a long way in helping you feel prepared when working through your recorded lessons. Feel free to jot down any questions if you want. You can ask your online tutors for assistance and get any initial confusion you may have cleared up.
5. Listen to podcasts
If you don't want to study over the holiday break, you don't have to! If you want to enjoy your break, you have every right to. You earned it!
To keep productivity intact, listen to educational and motivational podcasts. Here are some great options:
Stuff You Should Know
Made to Thrive by Steve Stavs
TED Talks Daily
StarTalk with Neil deGrasse Tyson
Life Kit
History of Philosophy Without Any Gaps
Entrepreneurial Thought Leaders
Brain Science
Grammar Girl
Stuff to Blow Your Mind
Startup Nation
60 Seconds Health
60 Seconds Science
Astronomy 161
The Infinite Monkey Cage
If you're interested in switching from conventional schooling to online schooling, Think Digital Academy should be your top choice. Established in 2017, our school has been providing a quality online education to students for over 6 years.
We're excited to have you on board! Let's start securing a better, brighter future for your children.
Sign up to explore our FREE two week trial.
https://www.thinkdigitalacademy.org/wp-content/uploads/2022/12/Five-ways-to-stay-productive-over-the-holidays.jpg
350
600
vene
https://www.thinkdigitalacademy.org/wp-content/uploads/2020/10/logo_shrinking.png
vene
2022-12-28 11:16:15
2023-02-15 13:22:05
How to stay productive over the holidays