How does online schooling make children more disciplined?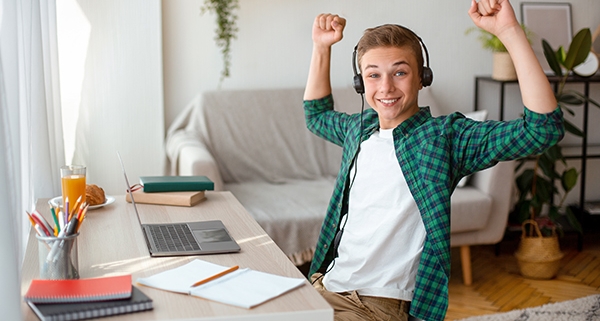 The benefits of online learning are extensive.
We would list them, but we have a word limit we'd likely hit before we finished.
Most things that are this good for you are either very boring, very difficult or very hard to achieve. Like consuming copious amounts of plain old water, rigorous exercise and an unbroken eight hours of sleep a night.
Online learning though, is none of those things. And here's why.
As online schooling becomes the preferred choice for many parents across South Africa and the rest of the world, its benefits have been actively circulating the web. Following the COVID-19 pandemic, parents are interested in exploring how online learning can help their children grow academically and non-academically. They're also curious about the flexibility online schooling has to offer to parents.
In this article, we'll cover a common facet of online schooling: discipline. You may have heard that switching from conventional school to South Africa's 2x award-winning online school, will help your child become more disciplined in their academics as well as all round. You may also have wondered whether there's any truth to this statement.
A strong focus on scheduling and consistency
Online schooling offers a lot of flexibility to students. Unlike conventional school, online school helps students absorb and retain more knowledge in a shorter time span. This is largely because students are able to tailor their learning and schedules to something that fits their needs best. For example, they have the ability to move ahead when something is grasped quickly and similarly, they can select to spend more time on something with which they struggle.
Since the lessons have been designed to keep students captivated and engaged; the high-definition videos, strong visuals, narrated information and engaging quizzes, each child is engaged with the content for a longer time span. In other words, they learn more actively, attentively and retentively. As a result, students don't have to spend hours in the classroom; focused learning helps them reap the benefits of a flexible schedule.
This flexibility comes with a lot of responsibility, which is instilled in students from the get-go. At Think Digital Academy, our lesson methodology experts and instructional designers along with our MA/PhD qualified subject specialist teachers are particularly focused on inculcating an attitude of enquiry, discipline and responsibility in students. Students are encouraged to follow a schedule they've set up for themselves, ensure consistency and adopt a disciplined approach to their studies and non-academic life.
Success coaching
At Think Digital Academy, our Student Success Coaches are available to all students at all times during operating hours. We provide weekly activity reports and copies of assessments completed by the students to all our parents to ensure that each student is on track. This assists parents and students to provide the support and guidance they need to feel their best, perform optimally and overcome common academic and non-academic hurdles with ease and adroitness moving forward.
Students can get distracted easily. We live in a world that involves active social media use, which can trigger a lack of discipline in students. With procrastination, complacency, and nonchalance on the rise, students often neglect their studies and adopt a laidback approach to life. We counter these effects by providing parents with a detailed weekly activity report, detailing all of the student's activity on the dashboard. This includes times logged in and out, time spent on lessons, lessons watched, quizzes / assessments completed and results obtained. This keeps the students accountable for work completed as well as academic progress and achievement which, as a result, focuses on the importance of ensuring discipline in every stage of life: academic, personal and social.
Skill-building activities
The right activities can help shape a student's mindset. Unfortunately, many institutions select activities that simply keep students preoccupied instead of offering valuable lessons.
Our lesson activities include skill-building activities that help students develop essential skills like discipline, responsibility, honesty, hard work, commitment and resilience among others.
Instead of simply being told about the value of discipline, students get a chance to exercise self-discipline in their daily online school routines. This helps them become more disciplined in different facets of their life.
At Think Digital Academy, we provide a quality South African CAPS, British International and American GED online education across four schools: Early Childhood (ages 5 to 6), Primary (ages 7 to 13) and High school (ages 14 to 18). Explore our online schooling programmes to get started.
Free trial
If you have not joined us yet, why not enrol for our free 14 day trial to explore our e-learning environment.
https://www.thinkdigitalacademy.org/wp-content/uploads/2022/03/Online-schooling-makes-children-more-disciplined.jpg
350
600
vene
https://www.thinkdigitalacademy.org/wp-content/uploads/2020/10/logo_shrinking.png
vene
2022-03-23 07:40:36
2022-03-23 08:43:43
How does online schooling make children more disciplined?