A parent's view of Think Digital Academy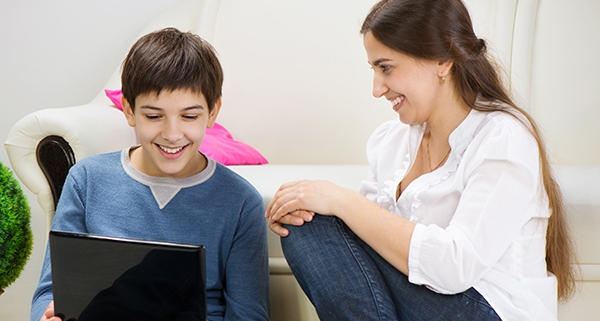 Interview with Isabel Sharman, AS Level Parent to Antonio Sharman
Why did you choose Think Digital Academy?
I was looking for an online school that was accredited, where my son would be able to obtain a report that would be recognised by other schools and universities. I started to look into Think Digital Academy, just from seeing the name of the school from some parent groups on Facebook, as one of the most recommended online schools. It partnered with our thoughts about a UK system being better for Antonio than an SA based school system, because of his aspirations to go to an international university. In addition to that, it was during the COVID-19 pandemic, so everybody was doing online anyway. We wanted a school that had researched how to do online teaching, not just put it on Zoom and continue as most schools were doing.
Those three aspects together made us consider exploring the online option. After that, we really left it up to him. He made the final decision.
What do you like most about Think Digital Academy?
I was completely surprised with the level of customer service and care from the Student Success Coaches as well as the high quality of the online lessons. The weekly activity reports sent directly to the parents on Monday mornings also made it easier for me as a mom, to keep track of what Antonio was doing during his school day. It was a nice surprise to see how Antonio had taken advantage of the time he had to successfully complete all his lessons independently.
How would you say an online school differs from a traditional school?
You save a lot of time. I don't have to drive anywhere.
I think online is great because it's going to prepare him better for university. He has to figure out how to schedule his own time. How to get things done, when to get them done, how to be disciplined enough to get it done as there's not somebody every day checking it. I think it will prepare him better for his life in general; Think Digital has made a significant impact on him being a whole student, and not just an AS level student.
Although there aren't any of the regular social interactions, you are still able to plan social activities outside of the online learning environment. We signed Antonio up for a sports team at a club. You simply find activities that your children enjoy and sign up for them yourselves.
Is online learning as good as face-to-face learning?
I will tell you a quote from Antonio – he felt like he was in class. Just without the distractions.
There were absolutely zero obstacles to learning. He enjoyed working at his own pace and really enjoyed the fact that he could re-watch lessons as many times as he needed to before feeling confident enough to move on to the next concept.
How much involvement is needed as a parent?
I have found that anytime I needed anything from Think Digital, I was always assisted very quickly. The Student Success Coaches were a huge help too – I never felt like I didn't have an answer or that I was navigating this new online journey without any support.
Free trial
Give our online learning platform a try and enrol for our free 14 day trial today.
https://www.thinkdigitalacademy.org/wp-content/uploads/2022/01/A-parents-view-of-Think-Digital-online-school.jpg
350
600
vene
https://www.thinkdigitalacademy.org/wp-content/uploads/2020/10/logo_shrinking.png
vene
2022-01-26 08:32:56
2022-11-01 08:18:04
A parent's view of Think Digital Academy