Dispelling the myths of online learning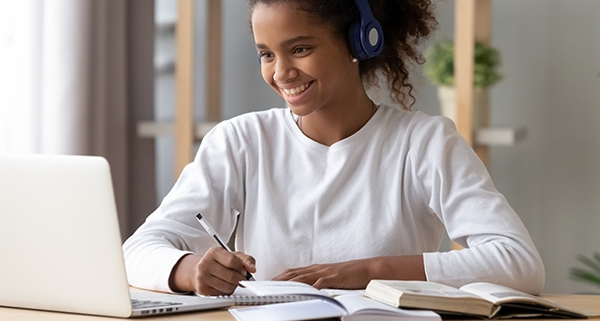 As a parent of one or more tiny humans, you've probably made some very questionable decisions over the years; about their fashion, about their hair-cuts, about their dietary requirements (like feeding them those weird, expired tuckshop toffees or literally anything from McDonald's) and perhaps even about their education – we all have.
But we're all a little older and wiser now. And it's never too late to start making amends.
With just about the whole world going entirely online, why not make sure you're educating your child at the very best online school around?
Much has been said about online learning since the start of the COVID-19 pandemic almost two years ago – some of it good, some of it less so. Headlines of online learning creating 'challenges' and being a 'nightmare' provide contradictions to the general perception of its pivotal role in the future of learning.
Critics focus on perceived issues with the level of interaction and emotional support for students and lack of personalisation and teacher guidance. Done well, online learning can provide a complete school experience with a vast array of benefits. The flexibility of self-paced learning, coupled with a keen sense of self-motivation and discipline and, the potential to learn alongside students from across the globe are just the tip of the iceberg.
Today, we look at some of the most common criticisms of online learning and look at how, with the appropriate strategies and support, these concerns can be eradicated.
Myth 1. Online learning limits levels of individualisation support
Far from lacking individualisation, online learning combines independent study, pre-recorded lessons and tutor / admin support to allow for a truly flexible, personalised education. At Think Digital Academy we provide access to online study materials that help students scaffold to greater depth and knowledge, alongside the implementation of pre-recorded lessons that have been taught by educators who are experts in their subject fields. Central to the success of online learning is engagement with expert teachers. In addition to this, students are empowered to develop individual learning pathways at a pace that suits them.
The parents of our online students are able to be a part of our data-rich environment, analysing student progress data and using it to provide individualised support to coach and motivate their students.
Myth 2: Online learning results in a lack of student participation
When online learning is done well, students receive constant feedback on their progress through instantaneous feedback from their mastery checks and assessments. Our Weekly Activity Reports, that are emailed to parents every Monday, hold students accountable for managing their time effectively. This gives parents and tutors an explicit overview of what the student has completed and how they have performed academically. In this way, everyone is seen and heard, and no one is left behind. Removing the distractions of the physical classroom provides an environment in which a broad range of students can thrive.
Myth 3: There is insufficient social, moral and cultural development in online learning
Independent learning does not mean learning alone. At Think Digital Academy, students can chat to other students online from all around the globe, through their Online Chat Forum. They can cultivate their own passions outside of academia, develop new and healthy interests and build relationships. Online learning allows students to work alongside peers from across the globe, broadening their understanding of different cultures and building an international network of friends.
Myth 4: Lack of self-discipline impacts the success of online learning
Online learning allow students to build their own unique schedules, allowing them to balance academics with other commitments such as sporting or cultural activities. With the correct support in place, students develop invaluable skills including time-management and self-discipline, critical thinking and strategic planning ahead of university and future careers.
Collectively, our success coaches and online tutors work together to produce the careful guidance needed to develop effective, independent students.
Myth 5: Online learning limits outcomes and academic potential
Think Digital Academy is a two-time award winning online school that combines the ethos and academic excellence of traditional private schools. Just as with in-person learning, we work hard to support the university aspirations and career ambitions of every one of our students and ensure they achieve their very highest potential.
Their online curricula and an array of additional tasks and activities provide students with the experience, extension work, lateral thinking and essential problem-solving skills required for success.
Myth 6: Online learning means parents have to teach and 'babysit' students
Far from having to home-school or monitor children on a daily basis, online learning can provide parents, tutors and carers with unprecedented visibility into their children's education, with real time access to their performance, grades and time spent learning.
The formation of Think Digital Academy predates the pandemic and was inspired by a desire to expand access to high quality education to students all around the globe. Our educational programmes are specifically designed to make the most of the innate benefits of online learning, equipping our parents and tutors to bring out the best in every learner.
Free trial
Why not try our online learning environment by enroling for our free 14 day trial.
https://www.thinkdigitalacademy.org/wp-content/uploads/2022/02/Dispelling-the-myths-of-online-learning.jpg
350
600
vene
https://www.thinkdigitalacademy.org/wp-content/uploads/2020/10/logo_shrinking.png
vene
2022-02-09 11:29:49
2022-11-01 08:29:56
Dispelling the myths of online learning