How to build social skills in an online environment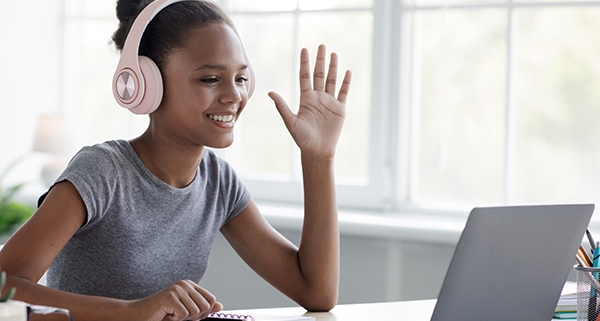 Distanced learning needn't mean disconnection. In fact, Online Thinkers report that they experience quite the opposite: all are part of the Think Digital community and connect socially to share ideas, conversations and culture across the globe.
We recommend that students open themselves to the possibilities of remote learning at the outset:
Make time to participate in social experiences outside of school
Test their capabilities with the support of our highly-trained online tutors
Build lasting friendships with like-minded students all over the world
Hone their confidence for a highly-connected future beyond school
Participate in any educational opportunity that appeals to them
While self-led organisation is a vital skill for each Online Thinker, learning how to form close connections is also crucial. They may be geographically divided, but students in our person-centric school come together on their online Forums as well as our online tutorials. Supported by cutting-edge systems that facilitate interactivity, lifelong bonds of friendship can be quickly forged – and enabled to thrive.
Our Club masters lead personal interactions, creating space for lively group participation. Within the virtual Clubs and Societies space, participation is open to every student.
The set-up is brilliant training for what's to come at university and beyond: a carefully tailored mix of one-to-one interactions, collective debates and autonomous expression, with quiet time for them to progress through coursework at a pace appropriate to them.
Our offering also boasts some additional online courses. Whether students are curious about coding, or gearing up to conquer the world through enhancing their Mind Power for kids and teens, they have the option of completing a course that appeals to them. And, for anyone who feels the itch to establish a new online social club, there is full support from staff to take the initiative.
At this watershed moment in time, online schools have an unprecedented power to match our fast-paced world of international living, showing students how to expand their networks across the globe while also making exceptional educational progress in their studies. Modelling flexibility, cross-cultural links, dynamism and social skills, Think Digital Academy provides the step-up they need to start building the brightest of futures.
Free trial
To make your choice even easier, why not enrol for our free 14 day trial to explore our e-learning environment. Also have a look at our exciting range of Clubs.
https://www.thinkdigitalacademy.org/wp-content/uploads/2021/12/Build-social-skills-in-an-online-environment.jpg
350
600
vene
https://www.thinkdigitalacademy.org/wp-content/uploads/2020/10/logo_shrinking.png
vene
2022-01-12 11:16:25
2022-11-02 10:35:13
How to build social skills in an online environment