No app can replace your lap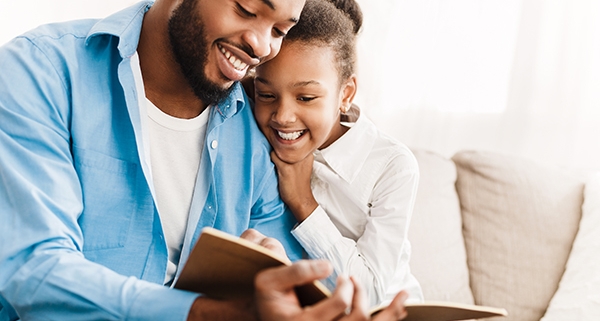 The importance of reading to your child
Books give us the words when we have none or are wanting to ensure we say the right things.
Is there any better feeling in this world than snuggling a warm little body into yours and reading to them in a sing-song voice?
Reading stories to your favourite little person is just so very special, right? It isn't just about the story and pictures, but the voice that is reading to them and the energy this creates. A parent reading a good book to their child will connect with little ones on a number of levels, and every child's book shelf should have more than just a few.
Here's just a few reasons as to why we love them!
Developing the reading habit
The importance of reading is undeniable. Studies have shown that children who are read to regularly by the age of 5, perform better in maths, vocabulary and spelling at age 16, compared to those who were not read to at home. Similarly, teenagers who read independently are the ones who do best in school. Not to mention the benefits to mental health and future wellbeing which are tremendous.
At Think Digital Academy we encourage students to aim for 20 minutes of reading each day. It doesn't have to be in one session; it can be spread out over a few breaks, in between lessons or while enjoying a cup of tea and snack. It doesn't matter whether they read a physical book, an e-book, an informational website connected to something they have been learning about, a graphic novel… as long as they are reading!
At Think Digital Academy, we also encourage all parents to help children to develop their reading habits by visiting our "Reading Room", located on our website, which offers hundreds of short stories, that can be downloaded for free. Here you can choose from many different genres, pick a story and read to your children at least three times per week.
There are tons of fantastic children's books out there and they all have similar agendas, be they to promote or support reading for pleasure, great books, great illustration, diversity, emergent readers and much more. Not to share them would be a crime against reading and humanity!
So, if you're a parent, teacher, or just plain kid "lit lover" be sure you've subscribed to our Reading Room so that you never miss a story!
What can you expect from the Think Digital Academy Reading Room?
Each month, a new series of stories / short tales, including non-fiction and fiction tales, are made available for students and parents to download and enjoy the marvels of reading!
Each week, on a Monday, Wednesday and Friday, a new story is available for parents and students to download. Make sure you subscribe to our mailing list to ensure that you never miss any of our upcoming stories or books.
This online resource of over 100 books / stories is available in English and Afrikaans, and can be accessed and downloaded from the website at any time after it's been published.
Some of the themes include: Ancient Tales, Adventure Stories, African Tales, Modern Shakespeare, Fairy Tales, Greek Mythology and much, much more! They are all equally fantastic, all you have to do now, is grab a cup of hot chocolate, find a comfy spot and, pick your adventure!
If you've subscribed to our blog, you can also expect to receive parental tips and guidance for encouraging reading and supporting less confident readers.
According to research and studies conducted by Cambridge University of England, the biggest predictor of high academic achievement and high ACT scores, stems from parents reading to children from a young age – not flash cards, not workbooks, not fancy preschools, not educational toys or devices, but YOU, Mom or Dad, taking the time every day or night (or both), to sit with them and read wonderful books!
https://www.thinkdigitalacademy.org/wp-content/uploads/2022/08/The-importance-of-reading-to-your-child.jpg
350
600
vene
https://www.thinkdigitalacademy.org/wp-content/uploads/2020/10/logo_shrinking.png
vene
2022-08-24 10:26:07
2022-08-24 10:50:59
No app can replace your lap