How to have a creative Christmas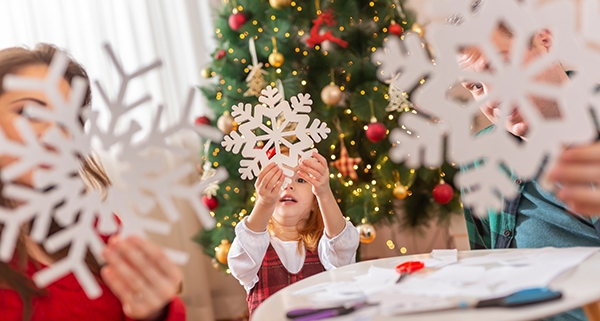 Festive. Season. Shopping. Malls.
If that phrase doesn't bring back trauma and stress memories, you're either lying to yourself or the true horror has worn off a little faster than usual after a quieter-than-normal festive season last year.
So: let's take a quick trip down memory lane.
Think crowds obliviously crab-walking. Scary-pushy perfume reps. The deafening racket of Christmas carols and screamy wrinkly turnip babies.
Is it really worth enduring all of that for a few stocking fillers?
Why not get creative and make something to fill your socks instead.
Most children love expressing their creativity at Christmas. From crafting and colouring, to dancing and listening to Christmas tunes; the amount of ways to be creative over the holidays, are endless.
But, why should only children have all the fun?
According to a private healthcare company, Bupa, "it turns out that children are not the only ones who need a creative outlet to explore their imagination. A report from the National Alliance for Arts, Health and Wellbeing (APPG) suggests that having a creative hobby can actually benefit our mental and emotional health."
If you're a tired teacher, weary parent or exhausted employee, your first instinct over Christmas may be to do as little as possible. And, of course rest is always beneficial and necessary, especially after a busy and stressful year.
But, by engaging in creative pursuits, you can actually rest your mind, boost your mood and improve your mental health.
How creativity can improve wellbeing
According to an article by Forbes, getting totally absorbed in a creative task "reduces anxiety, boosts your mood, and even slows your heart rate. Repetitive creative motions like knitting, drawing, or writing help activate flow, and are all tasks that create a result.
And when you succeed at creating a result, no matter what it is, your brain is flooded with dopamine, that feel-good chemical that actually helps motivate you. Whether or not you're aware of your increased happiness, the hit of dopamine you get after being in flow will drive and influence you toward similar behaviour."
So, whatever it means to you, we'd encourage you to embrace your creativity at Christmas!
How to get creative at Christmas
There are many ways to get creative at Christmas. Simple actions like drawing, knitting, colouring, writing and listening to music are all a great place to start.
Or, you could take a look at creative Christmas events in your local area.
Wander along a Christmas light trail
Attend an outdoor Christmas event
Find a local craft fair or art show
Visit a Christmas market
Watch a Christmas choir or vocal concert
Enjoy a local Christmas carol service
Creativity at home
Don't fancy heading out? There are plenty of ways to get creative at home. We're blessed to live in a digital age, with a plethora of online events that you can live stream or watch in the comfort of your own home.
Even watching a film is a way to engage in creativity!
You could cook a lovely meal, do some baking with the kids or friends or even order a paint by numbers kit to brush away outside, under a tree on Sunday afternoons.
Caring at Christmas
Sustainability is at the forefront of everyone's mind at the moment. So, why not combine creativity with sustainability and hand make your Christmas gifts this year?
You could forage for cones and leaves in your local park to enhance your gift wrapping. Or, encourage your kids to make Christmas cards to send to family, friends and neighbours.
Many young people don't have the opportunity to engage in creativity at Christmas, or at any time of the year. You could even compile your own "creative kit" and donate it to disadvantaged young people.
Share your creativity
Would you like to share your creativity with others? You may even inspire them to follow suit!
Tag us on Facebook, Instagram and Twitter with your #TDACreativeChristmas posts!
Here are a few #TDACreativeChristmas ideas:
Christmas cookie and gingerbread home decorating
Handmade Christmas cards
Homemade Christmas decorations
Personally made Creative Kits to hand out to disadvantaged young people
Holiday scene watercolour paintings
Pencil drawings
Serve festive snacks and try out new recipes
Handmade Christmas gifts such as jewellery, knitted items, candles, recipe book, photo frames, coasters, snow globes, etc.
From your Think Digital Academy team, we wish you a very merry, and creative, festive season!
https://www.thinkdigitalacademy.org/wp-content/uploads/2021/12/How-to-have-a-creative-Christmas.jpg
350
600
vene
https://www.thinkdigitalacademy.org/wp-content/uploads/2020/10/logo_shrinking.png
vene
2021-12-14 07:10:55
2021-12-15 06:28:43
How to have a creative Christmas